HealFast Skincare
Ovasome Instant Facial Peel Like a Spa Peel But At Home
by Michael Marenick on May 06, 2017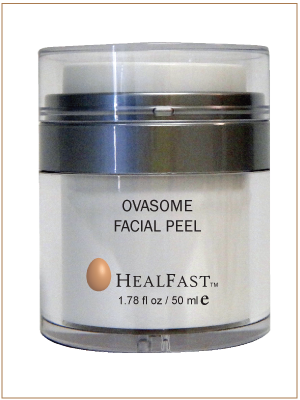 Ovasome Instant Facial Peel
Like a Spa Facial Peel But At Home
by: Mike Marenick
Ovasome Instant Facial Peel

will allow you to enjoy the benefits of a spa peel in the privacy of your own home. This non-abrasive gel formulation will instantly exfoliate impurities and remove dead skin cells. After the first use your skin will look toned, tightened and brighter. With continued use you will notice a more radiant complexion after each peel. Natural exfoliation helps reveal healthier skin that will diminish the look of fine lines and wrinkles. Ovasome Instant Facial Peel

is pH balanced and works with out drying or stripping the skin of essential nutrients.
Can be used 2-3 times per week or as your skin type requires. For best results, be sure to follow your peel with HealFast Skin Cares Eggsential Hydro-Repair cream. Use our Egg Cream Cleanser daily in between your peels to gently clean and revitalize your skin.
Why use and Instant Facial Peel?
An instant facial peel is excellent for keeping your skin looking good and having that natural glow. As we age our body will often need a little extra help to remove that dead layer of skin so it can continue to look good. Often times people will go to a professional spa to get a facial peel.  These are often done with glycolic acid or lactic acid that can be very harsh on the skin. Granted it will remove the dead skin cells very quickly, but you will also notice your skin can be very red for several days after a professional spa facial peel. Sometimes a spa facial peel will leave your skin dry for seven to ten days after the treatment and peeling skin cells may be seen.
By using an instant facial peel you will remove dead skin cells more slowly and gently over time so you avoid the severe redness and dryness.
What Should You Use With an Instant Facial Peel?
It is very important to combine a facial peel with a good moisturizer to complete your treatment. As the dead skin cells are naturally removed it is important to provide the moisture and nourishment that the newly revealed skin cells will need to be healthy. A quality moisturizer should include hyaluronic acid which is known to be capable of holding up to 1000 times its molecular weight in moisturize for your skin. In addition, the moisturizer should include natural essential oils and herbal extracts that can provide additional benefit for your skin cells. And lastly be sure to look for some type of nourishing ingredient.  These are often food based ingredients such as eggs. An egg contains every vitamin, mineral and protein necessary for life. These types of nutrients can help re-build collagen and return elasticity to your skin.
Do you need a separate day and night cream?
The difference between a day and night cream will often have to do with the thickness or heaviness of the cream. Day creams tend to be on the lighter side because they are warn throughout the day often underneath makeup. For this reason most women want a cream that is lighter for use during the day. In the evening before you go to bed you may not mind the feel of a heavier cream on your face. In addition, during your sleep your body will absorb and use the nourishment from the cream without being inhibited by makeup, sweat or dirt that can build up throughout a daily routine. If you are using your facial peel at night then you can follow it with a night time moisturizer. If you use your facial peel in the morning then follow it with a day time moisturizer. The great thing about an instant facial peel is that it is gentle enough to be used at anytime during the day.
How To Use the Ovagen Instant Facial Peel
Dispense 1-2 pumps of gel per hand
Smooth gel over the area you would like to peel
Wait 1-2 minutes while the peel begins to work
The peel is ready when you feel a slight tightening on the skin
Rub in circular motion and back and forth
You will start to feel small balls of skin as it peels off
Rise area with warm water when done
Towel dry
Apply HealFast Skincare Hydro Repair Moisturizer when done.
Ovasome Instant Facial Peel and Hydro-Repair Mosturizer Available from here.